When (almost) everything changed: 30 years of the Volkswagen T4.
1990 was the start of a new era – and the long history of the Volkswagen van was no exception. After 40 years and three generations of vans with boxer engines in the rear, the new T4 is a culture shock: front engine, front-wheel drive, in-line instead of boxer engine, and a completely new design. We have had three decades to get used to it. Now the first Volkswagen T4 have become classic cars!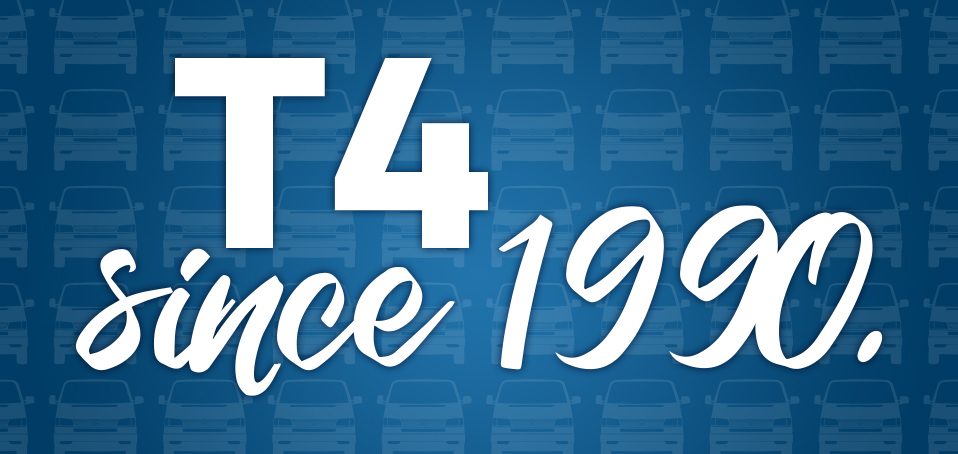 The reunification of East and West Germany, the collapse of the Soviet Union, the end of apartheid in South Africa – 1990 was a year full of transformations. On 28 August of that year at least, the eyes of the car world were on a little town in the Harz mountains in Lower Saxony:
The little spa resort of Braunlage was to become the backdrop for an enormous transformation. Volkswagen is presenting its new fourth-generation van – the T4. Karl Nachbar, then Head of Commercial Vehicle Development, speaks of "a change as radical as the replacement of the Beetle with the Golf". The switch to front-wheel drive changes (almost) everything with the VW bus, too: the design, the chassis, the engines and the space on offer.
The available space has especially increased in the rear, where the engine of the T3 took up a lot of volume. At the front, the T4 became longer to create enough space for the four and five-cylinder in-line engines installed sideways. The Multivan makes expert use of the space created inside, with its versatile fittings consisting of bed space, a fold-out table and individual seats in the second row. The front engine concept also enables new freedoms in the fittings of the California campervan. The Caravelle with short wheel base offers a maximum of nine seats, while the T4 is also available as the first VW bus with a long wheel base. That gives the Caravelle enough space for a large family of twelve – or perhaps a whole football team plus coach.

These three designs in particular still impress even after 30 years with their clever space concept and ideal features for everyday use. Be it the California, Multivan or Caravelle, the T4 is a classic for the entire family. That is why we have now brought the spare parts highlights for the three models together for the first time. After all, with original Volkswagen Classic Parts, the T4 will not be yesterday's van even tomorrow.
Discover our T4 product categories now:
OneT4all: We present the T4 and its community.